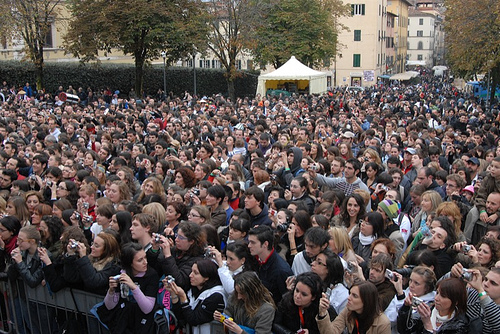 Music & Comics - Evolution and Revolution
This year's edition pay off, The evolution of the species, is clearly hinting to the change Lucca Comics & Games made, from a trade show from a trade show to a true festival and highlights the development need for Music & Comics to keep up.
Actually, this latter case would be more appropriately depicted with the word Revolution, so, let's go straight to the heart of the matter and provide you with the instructions to get a global vision of what could be seen in Lucca from Ovctober 29 to November 1.
The first step for the ones who'll decide to enter our universe will be to view the Event Programme with the time schedule of the main shows with the relevant venues. In fact, besides the Main Stage, we added the Red Bull Bus, with the main acts being the cover bands, the Performance Hall in the Music & Comics pavilion, where unforgettable moments will take life, the Japan Palace, hosting events with a strong Far East flavour, Auditorium San Gerolamo for the night shows, and San Francesco Square for the lovers of urban culture and street writing.
In the event programme only the main shows will be listed, so the nest step will be to look at the individual programmes, according to the personal interests, to find the various presentations of events and guests.
Finally, we suggest also to surf on the page dedicated to the trading area to realise the pearl waiting for the collectors and simple lovers.
Waiting for the Programmes release it is essential to remind some unmissable events, such as the concert of Vito Tommaso, performing live the official tune of Lucca Comics & Games 2009 Pianeta Comics, the Music Contest, this year in partnership with Mediaset, the Comics Day, with the participation of Rita Pelusio, from Colorado Cafè, and Omar Fantini, backed by the Poveri di Sodio band and the comeback of La Mente di Tetsuya, together with friends and travelling mates from the Universe of Lucca Comics & Games.
A Revolution in the Evolution... Are you ready to join us?